From April 11th to April 14th, the 35th Russian Communication and Information Electronics Exhibition SVIAZ ICT 2023 will be held in Moscow. SVIAZ is the most professional and largest communication and information technology display platform and exchange position in Russia and the CIS region. The exhibition area of this exhibition is nearly 20,000 square meters, attracting more than 300 companies from the global communication industry to participate in the exhibition.
Zikun Information presented the overall system solutions of WDM transmission, access network FTTH-R, and IPTV/OTT at the International Communication Exhibition in Moscow, Russia, and showed customers WDM wavelength division multiplexing equipment, 10G GPON/EPON OLT, 10G /G/EPON ONU, network management system (SMNS), IPTV/OTT system platform, IPTV/OTT set-top box, switch, optical module, optical passive device and other products have aroused great response and interest from customers, and they have expressed their interest in us Product and program approval.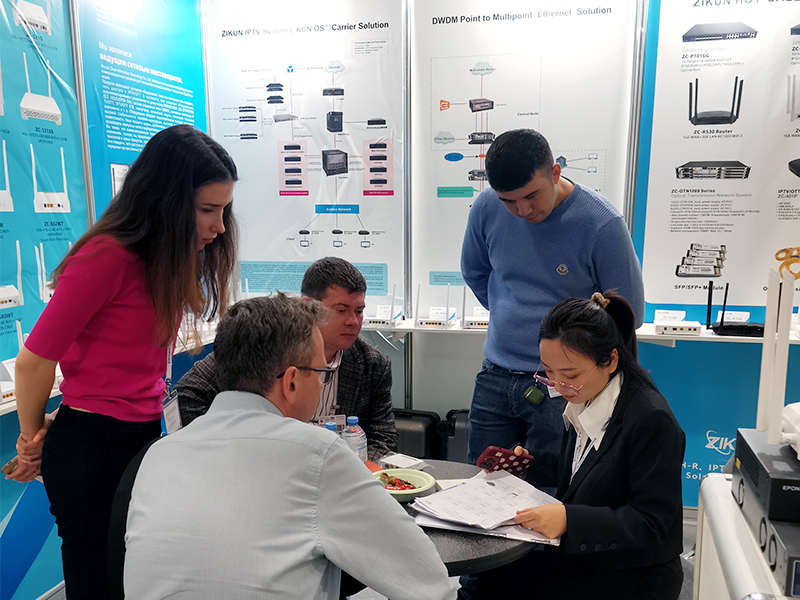 Participating in this SVIAZ ICT will enable Zikun Information Technology to expand its influence in Russia and surrounding areas, enhance its popularity and brand reputation, pave the way for the company's global layout and deep cultivation of key markets, and also pave the way for us in Russia and various Central Asian countries Partners provide more and better choices.
Since its establishment, Zikun Information has focused on the research and development of comprehensive application solutions such as optical communication network transmission, access network and IPTV/OTT system platform. Designed and intelligently manufactured, it is committed to providing users with high-quality voice, data and video network transmission equipment and terminal equipment based on IP networks, with the advantages of stability, compatibility, ease of operation, and high cost performance.